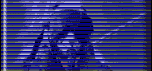 The Late Show With David Letterman
(Wednesday, January 09, 2002)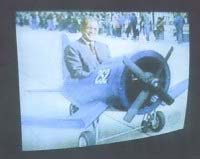 Prattworks Inc. designed and constructed this model of a World War II Corsair fighter plane which was aired on The Late Show with David Letterman on Wednesday, January 9th. We are excited that the plane caught the attention of the CBS writers and segment coordinators of Mr. Letterman's show. The plane is constructed of schedule 40 tube steel, 24 gauge steel skin, a 6-horse power electric start engine and rear wheel steering controlled by joystick, it also incorporates fold up hinged wings for easy transport and storage. Prattworks, Inc. enjoyed this project due to the originality and challenge of the design. We currently have drafts and plans for many other makes and models for prospective and interested buyers who love aviation as much as we do.
If you are a big kid, like most of us aviation enthusiasts are, or if you just want to give an aviation minded kid the ultimate present. A Go-Cart Plane is a must !
John "RUN" Raahauge (avitop.com)
<< Back to PART 2 - Construction <<
Copyrightę1998-2000 Avitop.com
Our Privacy Policy - Aviation